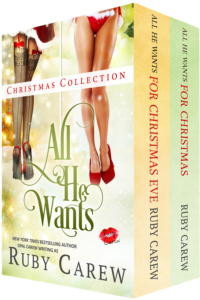 Some Christmas wishes do come true…
On Christmas Eve, my jackass of a date tells me he has a surprise for me, then brings in another woman for a threesome. After I storm out, I realize I'm in the hallway wearing a tiny Christmas costume and stilettos and I can't go out in the frigid Christmas Eve blizzard like this.
I go to find Brad, my best friend, who lives in the same building, but when he sees me in the skimpy costume, the long suppressed attraction between us flares. Friendship turns to intimacy and soon we're asking ourselves, just how far can this go? Especially when Brad's sexy friend, Neill, shows up, and dreams of threesomes dance through my head.
WARNING: This collection of erotic stories is for adults only. It contains graphic sex scenes that will thrill and excite you, including oral sex, multiple orgasms, ménage a trois (MFM), and a whole lot of holiday fun!
Will be available for preorder soon!
The current collections in the All He Wants series.
Each box set contains two stories. but is the same price as buying just one story! (That's 50% off!!!)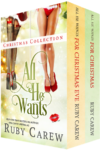 You can also get the stories individually.