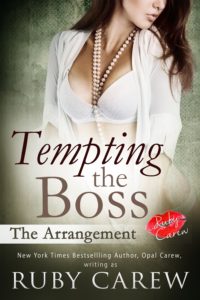 Where do Bella and Mr. Elliot go from here?
When Bella's boss called her into his office to fire her last week, she tempted him into reconsidering. Now she's wondering just what she's gotten herself into. And can she really go through with it?
Mr. Elliott was as surprised as Bella at the arrangement they came up with. And is more than a little excited about it. But when he calls her into his office, he is disappointed to find she's reconsidering the situation.
Will she call off the arrangement and walk away from the job she loves?
Warning: This story is filled with steamy hot sex and excitement in an office setting with a hunky, dominant boss that is sure to thrill.
Here are the current books in the Tempting the Boss series!
You can also pairs of stories in collections.
(And the box sets are a much better price than buying the stories individually!!!)