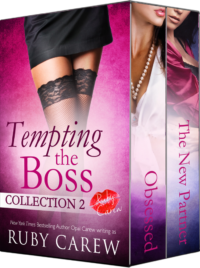 How far would you go to keep your dream job?
If you love stories about forbidden office affairs, especially with a sexy boss, then following Bella and Mr. Elliott's tempestuous affair is an erotic roller coaster you'll definitely want to ride!

Will be available in print:


Links coming soon!
Here are the current collections in the Tempting the Boss series!
(And the box set is the same price as buying just one story! That's 50% off!!!))
You can also get the stories individually.