I'm Opal Carew, and I have a dirty little secret I'm ready to share with everyone! If you know me, you know I'm a NYT Bestselling Erotic Romance Author. But now it's time to come clean! (Sort of. As you know, my stories are certainly not clean!
 )
I have also been writing even hotter erotic stories as Ruby Foxx!
As Ruby Foxx wrote short erotic stories, closer to erotica than the erotic romance with an HEA I write as Opal (though it is clear the chemistry in my Ruby stories could develop into long term relationships).
And now that I've let you all in on this secret, I'm re-publishing these stories as Ruby Carew!
I have two Ruby stories out already, just in time for Christmas – ALL HE WANTS FOR CHRISTMAS EVE and ALL HE WANTS FOR CHRISTMAS are out now, and the ALL HE WANTS, CHRISTMAS COLLECTION is available for pre-order now (and releasing Dec 16th).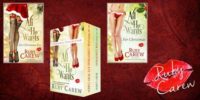 Please check out my new website, and I hope you will follow me over to Ruby Carew's new FB page too – I'd love to stay in touch!
To see more about this and my next series, check out my Series page! To see what's currently released and what's coming up, see my Books page.
Go to my Contact page for social media links or to email me!
I hope you'll check out my books!
Ruby
xox